Private transportation.
Entrance to the archeological site.
Tour Guide
Boat tour in Rio Lagartos
Lunch not included.
Comfortable shoes and clothing.
Camera
Swimming suits and beach towels.
Money for shopping.
Bug repellent.
Sunscreen.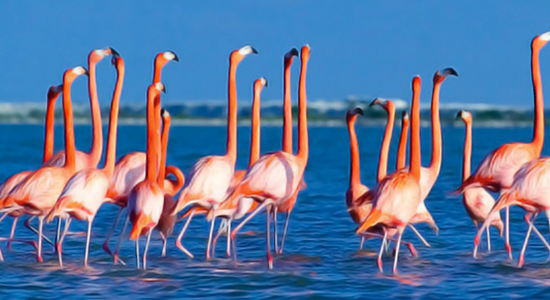 We will pick you up around 7:45 am.
By 8:00 am we will be on our way to our destination on an air conditioned Van.
The guided visit to the archaelogical site of Ek-Balam will take approximately 45 minutes.
Once we have completed Ek-Balam tour we will head to the Rio Lagartos Biosphere reserve.
At Rio Lagartos we will take a two-hour boat tour to gaze at the flora and fauna, with highly knowledgeable guided who are expert in identifying the many bird;s species in the area.
We will visited the "salinas" where, if the weather permits, we will be able to enjoy a refreshing swim at the salty mineral water (where you cant float) including the mayan SPA a mud bath with white clay and seaweed which exfoliate your skin.
We will enjoy seafood dishes at the local restaurant, right by the river.
After lunch we will be on our way back to Cancun.