Comfortable shoes and clothing.
Camera. Swimming suits and beach towels.
Bug repellent. Biodegradable Sunscreen
Use of Snorkelling equipment plus free snorkelling tube (requires a $25 USD refundable deposit per person) loker and towel
Extra money if you want to do extra activity like scuba
reef, swim with dolphins, temascal, shark interactive
adventure,Mexican wine testing, see trek.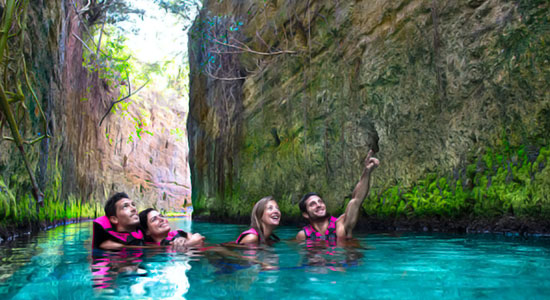 We will pick you at the time you decide (in case you decide private transportation)
If you prefer private transportation we require a mínimum of 6 people if you are a smaller group let us know, we will be glad to help.
Extra Activities have extra cost
For you return we have tow pick ups time at 6:30 pm or 9:30 pm choose only one
Private Transportation.
Entrance to Xcaret
Lunch and soft drink are included
Water activities: Underground River journey, Río del Paraíso journey, Beach, Inlet and natural pools.
Exhibitions: Coral reef aquarium, Marine turtles area, Manatee lagoon, Bat cave, Butterfly Pavilion, Deer Refuge, jaguar Island, Spider Monkey Island, Mushroom farm, Living Museum of orchids, Tapir's Territory, Tropical Jungle Trail, Regional Wildlife Breeding farm and rotating Scenic tower.
Culture & Performances: Archaelogical sites, House os Whispers, Mexican Cementery, Mayan Village, St. Francis os Assisi Chapel, Hacienda Henequenera, Stainded-Glass Plaza, Nature and Culture tours, Papantla flying men, Pre-Hispanic ball game and fiesta charra.
Night show
Lockers and snorkel equipment.